The Switchers Toolbox
Select your profile
About
The Switchers Toolbox provides you with a unique and innovative set of methodologies and tools for sustainable business development.
If you are an entrepreneur willing to create or to enhance your green and circular business The Switchers Toolbox is the place for you!
If you are a business support organization or a trainer/mentor targeting sustainable businesses The Switchers Toolbox is made for you!
By signing in to The Switchers Toolbox you will have full and free access to the most advanced and powerful available tools aimed at:
- developing green and circular business models and business plans
- eco-designing products & services
- accessing funding for sustainable companies
- assessing businesses' environmental, social and economic impacts
- and much more!
The Switchers Toolbox tools and methodologies have been specifically designed to match the needs of entrepreneurs and sustainable businesses, as well as of business support organizations and trainers/mentors.
TheSwitchers.org belongs to The Switchers Support Programme, an initiative which contributes to the 2030 Agenda for Sustainable Development and its SDGs by creating and enhancing sustainable businesses.
In order to create an enabling ecosystem for sustainable enterprises, through The Switchers Support Programme we work closely with green and circular entrepreneurs and companies, business support organizations, trainers and mentors, financial institutions, policy-makers and other relevant stakeholders.
In Mediterranean countries, we set up National Partnerships gathered under a common community of practices Business Support Organizations which targets sustainable entrepreneurs and companies.
Our main targets are The Switchers, businesses implementing innovative ecological and social solutions that contribute to a switch to sustainable and fair consumption and production models. They are active in a variety of fields, including organic food, renewable energy, waste management, sustainable tourism, organic textile, sustainable building, organic cosmetics, and sustainable mobility, among others.
We support Switchers at every stage of development:

We provide The Switchers with a comprehensive set of services to design, develop and accelerate their green and circular businesses: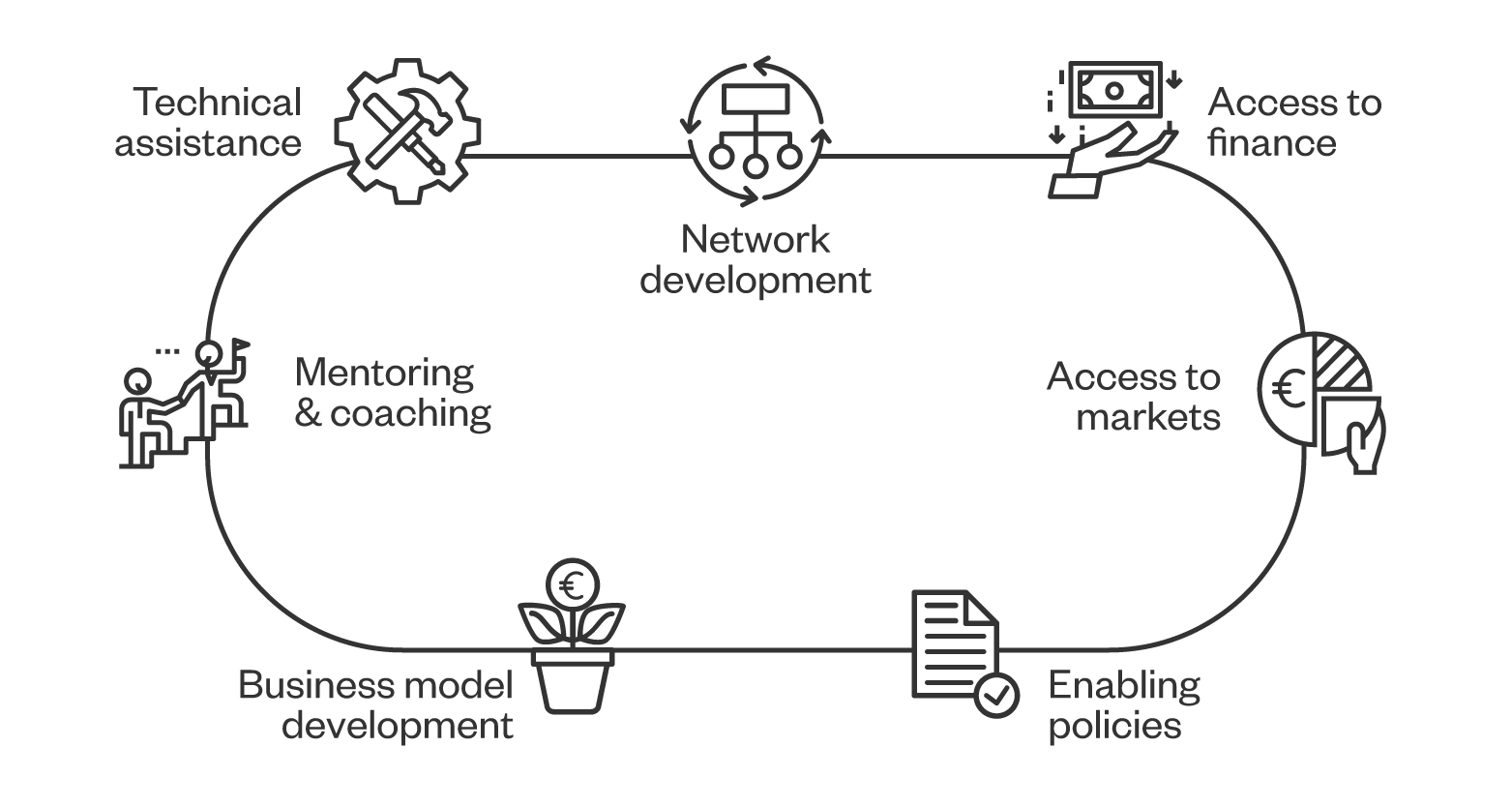 The Switchers Support Programme is an initiative from the UN Environment MAP Regional Activity Centre for Sustainable Consumption and Production (SCP/RAC). It is supported by several organizations, namely the European Union through the SwitchMed programme and ENI CBC Med; the Government of Catalonia- Waste Agency of Catalonia; the UN Environment MAP; the Organization for Security and Co-operation in Europe; and the Union for the Mediterranean.
2201
Entrepreneurs
Persons supported to develop their Sustainable Businesses.
123
Trainers
Experts trained in Sustainable Business Model Development.
70
BSO
Business Support Organizations members of the Switchers Support Programme.
360
Members
Eco-innovators of The Switchers community.
Contact us
Regional Activity Centre for Sustainable Consumption and Production (SCP/RAC)
UN Environment Programme / Mediterranean Action Plan (UNEP/MAP)
Convention for the Protection of the Marine Environment
and the Coastal Region of the Mediterranean (Barcelona Convention)
Address:
Sant Pau Recinte Modernista,
Pavelló de Nostra Senyora de la Mercè
Carrer de Sant Antoni Maria Claret, 167
08025 Barcelona, Spain
Your message has been sent. Thank you!